The share market has rebounded strongly 
in recent times with an improving global economic outlook, and anaemic interest rates worldwide seeing capital flow out of cash and back into markets. And our clients have been the beneficiaries of the strong performance of the FYM Financial Core Share Portfolio, which has returned 26.39% over the past twelve months, and the FYM Income SMA which has in turn delivered a 9.30% return, both comfortably outperforming their respective benchmarks.
Whilst these returns have been gratifying, at FYM we have been mindful that this ASX resurgence has thus far been led by high-yielding, large cap stocks (where we have concentrated our investment focus).
However, as investor confidence returns we expect there will also be a strong pick-up
in the mid-cap space which is now trading
 at very attractive levels compared to their larger peers. This has not materialised yet, as evidenced by the disparate movement between the All Ordinaries (green line) and the Small Ordinaries (red line) over the past six months in the chart below. We feel now is an opportune time to look at the emerging space.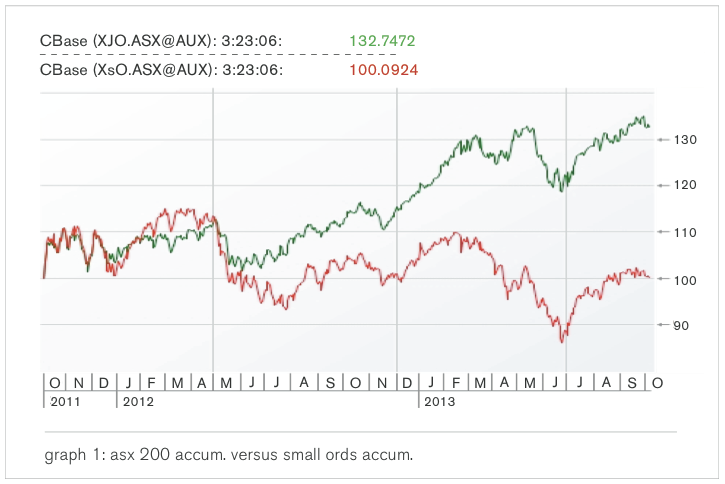 In keeping with this thinking, FYM has recently launched an Emerging Leaders portfolio (separately managed account or SMA) that will invest in companies outside the ASX100, with its primary focus being on industrial stocks held within the ASX100- ASX300. In many cases, these companies tend to be more financially secure than their small-cap counterparts, since they have moved beyond the volatile start-up phase, and trade in a more stable pattern like large-cap companies. However, unlike large-cap firms, these companies offer greater growth potential as their businesses are continuing to mature. These traits of stability and growth make them very attractive as an investment option.
Due to the size of these companies, it is an area that is often under researched by investment houses. An underestimation of a company's business and its potential can lead to attractive entry prices and ultimately prove highly profitable when the market realises its value. FYM seeks to identify, and selectively invest in these mispriced stocks using a fundamental "bottom- up" stock picking approach. We then extrapolate a "top down" view on regional and global markets to assist in identifying investment opportunities.
Some examples of the stocks currently held include:
Perpetual limited
Perpetual offers exposure to the one of Australia's best performed fund managers. Attractively priced, with a cost-out program driving greater efficiencies and highly leveraged to what we believe will be a strong market recovery with improving net inflows, we expect
Perpetual to do very well in the medium-term.
Supercheap group
Supercheap presides over a portfolio of leading brands that
are managed by a well-regarded team. The business has ample levers at hand to drive further grow in these brands, and along with the support of the company's sound operating metrics, and what we expect to be an improving consumer/retail outlook the business looks attractive.
Iproperty group
iProperty Group has emerged as the leading online property advertising portal in South East Asia. After years of heavy investment in growing subscribers, the company is on the verge of profitability in markets that have a revenue potential of US$900 million. Growth is expected to remain rapid over the next decade, offering significant value creation opportunities.
Magellan financial group
Magellan is a specialist funds management business based in Sydney that manages global equity funds for high net worth and retail investors in Australia and New Zealand. With strong performance, an easily understood investment thematic, the unhedged nature of the investment product and highly effective distribution team, we continue to believe global equity FUM will grow significantly from here.
Fonterra shareholders fund
Fonterra is the world's largest exporter of dairy products (over 30%) and trades on a much lower valuation multiple to industry peers. Consumer consumption of dairy products is on the rise, particularly in SE Asia where Fonterra has outstanding growth prospects particularly in the area of powdered baby formula where demand is increasing exponentially. This will be further buoyed by NZ's free trade agreement with China.